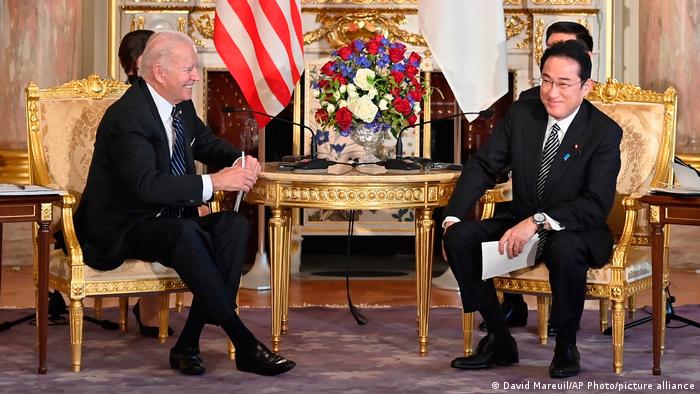 https://www.dw.com/id/as-dukung-jepang-jadi-anggota-tetap-dk-pbb/a-61897969
Biden Supports Japan to Become a Permanent Member of the UN Security Council
The President of the United States, Joe Biden, welcomed Japan's desire to strengthen its defenses to ward off threat from China. In his first trip to Asia, Monday (23/5), Biden pledged full US support to Japanese Prime Minister Fumio Kishida.
The two countries are committed to strengthening cooperation to counter China's "provocative behavior that violates international law," the White House said in a statement.
Kishida previously claimed Biden supported Japan's desire to become a permanent member of the UN Security Council, as reported by NHK state news agency.
"The US-Japan alliance has long been the foundation of peace and prosperity in the Indo-Pacific region, and the United States remains fully committed to Japan's defense," Biden said before meeting Kishida at Akasaka Palace in Tokyo.
Biden's visit to Japan, among others, was intended to attend a meeting of the Quad, an alliance of four countries against China, namely Japan, United States, India and Australia. On the same occasion, he also proposed a trade agreement, the Indo-Pacific Economic Framework (IPEF), with at least 11 Asian countries.
"This proves that the United States will strengthen its presence in the Indo-Pacific region," Kishida said.
Source: https://www.dw.com/id/as-dukung-jepang-jadi-anggota-tetap-dk-pbb/a-61897969