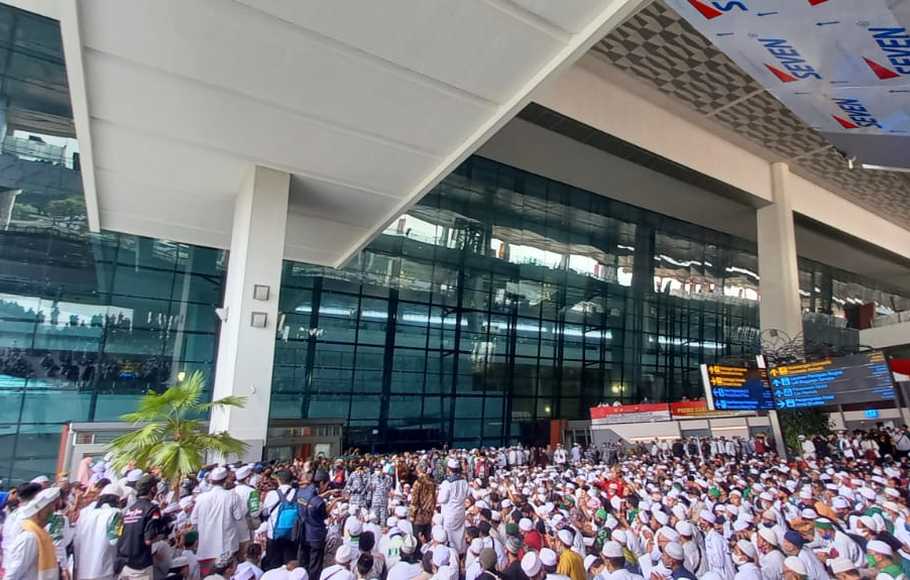 Members of Islamic Defenders Front (FPI) crowding in front of the Terminal 3 of Soekarno Hatta International Airport. (Image via Berita Satu)
AP II guarantees reschedule for delayed flights
Indonesia's state-owned responsible for managing airports, PT Angkasa Pura II (Persero), stated that the passengers to Soekarno Hatta International Airport affected by the traffic caused by the arrival of the leader of the Islamic Defenders Front (FPI), Rizieq Shihab, may reschedule their flight.
Speaking on Tuesday, the Acting Senior Manager Branch and Communications of the Soekarno Hatta Airport, Haerul Anwar, stated that the airlines that confirmed to allow reschedule and refund are Lion Air, Batik Air, Garuda Indonesia, and Citilink. Haerul also ensured that the coordination has been made with all stakeholders including the airlines. He added that the policy is anticipation so that the passengers might still continue their flight on the different schedules.
Anticipating the crowd welcoming Rizieq Shihab's arrival after staying 3 years in Jeddah, Saudi Arabia, Haerul added that adjustment for traffic had been done around the area of the airport. It is known that the FPI members came to the Terminal 3 of Soekarno Hatta airport to welcome Rizieq Shihab, having arrived around 9.00 a.m.
However, the massive crowd caused gridlock at Sedyatmo freeway to the Soekarno Hatta Airport as there was a surge of vehicle volume. Therefore, people are advised to seek other routes.
Source: https://bit.ly/38x17SH