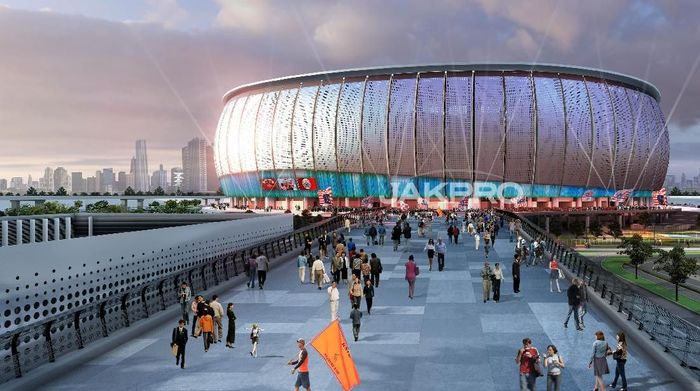 The concept of Jakarta International Stadium. (Image via Detik Sport)
Anies: JIS is 50.4% done
The construction of the Jakarta International Stadium (JIS) is halfway. The soon-to-be home ground of the Persija Jakarta has reached 50.4 percent. The news was confirmed by the Governor of Jakarta, Anies Baswedan, upon observing the stadium in Tanjung Priok, North Jakarta. Sharing the moment on his official Instagram account, Anies stated that the JIS construction has entered its 80th week.
JIS plans to be built in a three-story tribune with 82,000 people capacity. The capacity is even bigger than that of Gelora Bung Karno Main Stadium in Central Java. The stadium will also be equipped with various facilities, from VIP rooms, 200 designated seats for the disabled, training grounds, and a retractable stadium roof. Therefore, the stadium will certainly fulfill the standard of FIFA and as a green building.
Moreover, Anies said that JIS will not also be the venue for sports events, but also for music concerts.
"Football is not a mere sport but also as a unifying tool. Therefore, JIS will not only facilitate sports events but also all elements in the capital, around Jabodetabek, and even domestic and international events," said Anies.
Once planned to kickstart in 2012, the construction was delayed for 7 years to 2019. Built by PT. Jakarta Propertindo, JIS is targeted to be done by 2021 with a Rp4-5 trillion budget. Once finished, the name of the stadium might change after a business agreement with the sponsors willing to give it a name.
Source: https://bit.ly/3vwdac4