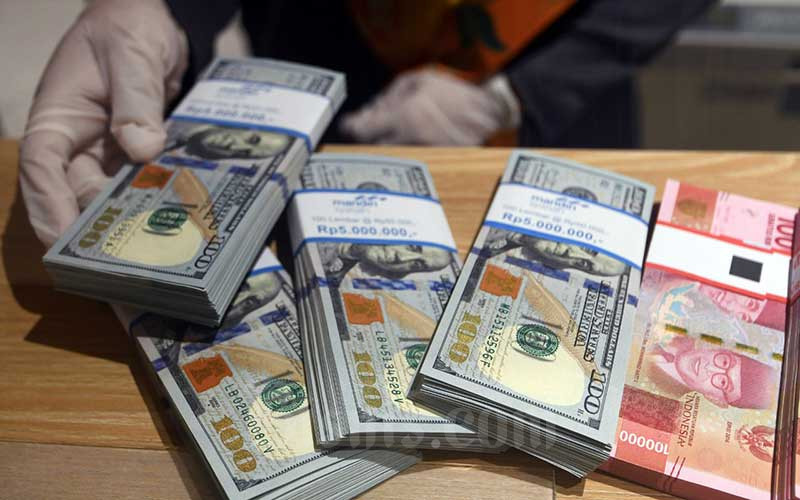 IDR weakened against the USD. (Image via Market Bisnis)
Amid COVID-19 lockdown, IDR weakens to Rp14,105/USD
On Tuesday's foreign exchange (forex) spot market opening, the Indonesian Rupiah (IDR) was seen at Rp14,105 against the U.S Dollar (USD). The rate weakened by 0.07 percent, compared to Monday's closing rate at Rp14,095/USD.
This morning, the currencies of Asian countries reacted differently toward USD. Reportedly, Singaporean Dollar (SGD) strengthened by 0.09 percent, Indian Rupee (INR) by 0.11 percent, and Thai Bath (THB) by 0.06 percent. On the other hand, the New Taiwan Dollar (TWD) weakened by 0.01%, Philippines Peso (PHP) by 0.01 percent, S. Korean Won (KRW) by 0.11 percent, and Malaysian Ringgit (MYR) by 0,28 percent. Only the Japanese Yen (JPY) and the Chinese Yuan (RMB) remain the same.
Meanwhile, the majority of currencies of the developed countries prevailed against the USD. Great Britain Pound sterling (GBP) strengthened by 0.11 percent, the Canadian Dollar (CAD) by 0.04 percent, and Swiss Franc (CHF) by 0.01 percent. However, only the Australian Dollar (AUD) weakened by 0.01 percent.
Indonesian forex analyst and the head of research at Monex Investindo, Ariston Tjendra, stated that the IDR's movement will be restricted for today. There are balanced positive and negative sentiments for Rupiah. First, IDR is still bolstered by the novel coronavirus disease (COVID-19) vaccine optimism and the USD index is still under pressure.
On the other hand, the negative response came following the lockdown announcement in England and the Netherlands due to the spike in COVID-19 cases. Furthermore, countries implementing the second phase of lockdown are Germany, S. Korea, and Japan.
Domestically, all attentions are fixed upon the release of trade balance which will affect IDR next. Therefore, Ariston projected that IDR will move around Rp14,050 - Rp14,150/USD for today.
Source: https://bit.ly/3oMXVqQ