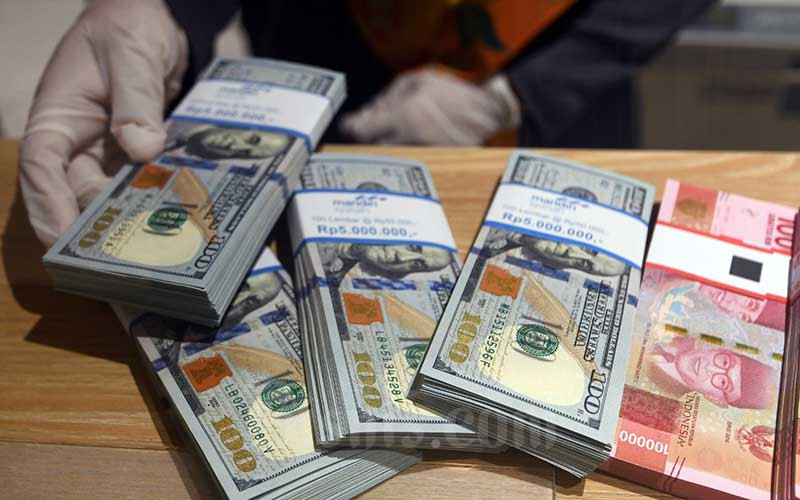 IDR and USD. (Image via Market Bisnis)
After reshuffle, IDR strengthens to Rp14,200/USD
On Wednesday's closing of the foreign exchange (forex) spot market, Indonesian Rupiah (IDR) is seen at Rp14,200 against the US Dollar (USD). The rate strengthened slightly by 0.04 percent compared to Tuesday's closing rate at Rp14,205/USD. Meanwhile the Jakarta Interbank Spot Dollar Rate (JISDOR) saw IDR weakened to Rp14,282/USD.
This afternoon, the majority of currencies of the Asian region strengthened against the USD. Reportedly, the Japanese Yen (JPY) went up by 0.18 percent, Singaporean Dollar (SGD) by 0.16 percent, New Taiwan Dollar (TWD) by 0.10 percent, the Philippines Peso (PHP) by 0.08 percent, Indian Rupee (INR) by 0.12 percent, Chinese Yuan (RMB) by 0.09 percent, and Thai Baht (THB) by 0.13 percent. Only, Malaysian Ringgit (MYR) and S. Korean Won (KRW) weakened by 0.09 and 0.04 percent respectively.

Following the trend, the majority of currencies of the developed countries also strengthened against the USD. Reportedly, Great Britain Pound sterling (GBP) went up by 0.46 percent, Australian Dollar (AUD) by 0.53 percent, Canadian Dollar (CAD) by 0.19 percent, Swiss Franc (CHF) by 0.05 percent.

The Director of PT TRFX Garuda Berjangka, Ibrahim Assuaibi, stated that the strengthening of IDR is caused by the reshuffle of the Onward Indonesia cabinet by the President of Indonesia, Joko Widodo (Jokowi), on Tuesday. Ibrahim stated that the reshuffle promised better politics stability and better cabinet performance. Moreover, the reshuffle also picked businesspeople, bankers, and those with positive track record to support Indonesia's economy,

However, the slight increase was caused by the worsening of the novel coronavirus disease (COVID-19) pandemic in Indonesia. The Indonesian COVID-19 Task Force stated that the COVID-19's new infection rate went up by 12.1 percent and the COVID-19-related mortality rate also went up by 3 percent. Ibrahim stated that the lack of healthcare facilities, such as bed occupancy rate (BOR) reached 80 percent, affected the COVID-19 treatment.

Source: https://bit.ly/3nKO7Oe