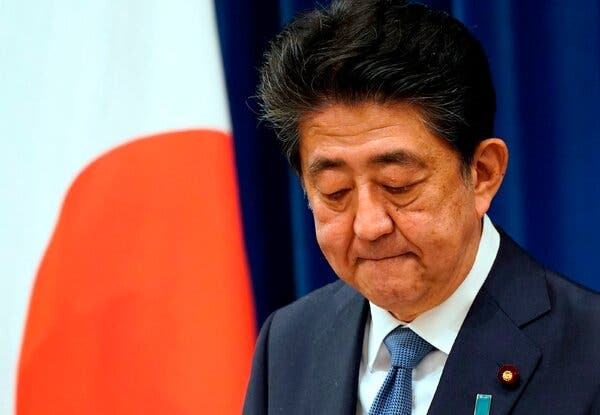 Longest-serving Prime Minister of Japan, Shinzo Abe, is caught in a scandal. (Image via The New York Times)
Abe to appear in Diet on Friday
On the upcoming Friday, the major ruling party in the Japanese Government, Liberal Democratic Party (LDP) would have arranged a session to summon the former Prime Minister of Japan, Shinzo Abe, to the Diet over the allegations that his office had illicitly covered part of the dinner receptions' costs for his supporters. The news was confirmed on Wednesday.
LDP is trying to summon Abe, either at steering committees' open sessions of both houses of the Diet or at their board meetings. On Thursday, LDP has entered the detail of the negotiations with the oppositions. If agreed to come, Abe will have to apologize for making false remarks in the Diet that he claimed that he just learned about the scheme to cover the costs partly.
Having become Japan's longest-serving Prime Minister before abdicating in September due to his health conditions, Abe repeatedly denied his involvement in the reception scandals, brought to light in November 2019. There was a rumor that Abe would hold a press conference on Thursday before appearing in the Diet.
Meanwhile, the oppositions also asked LDP to be allowed to summon Abe to the budget committees of both Diet's chambers. However, LDP is struggling to prevent it as fierce questioning is common in the budget committee.
Earlier in the week, Abe was questioned by the Tokyo prosecutors following the finding that a group - known for managing his political funds - was suspected to allocate more than 9 million yen to cover the costs of the receptions between 2015 & 2019 but failing to record the income and expenditure related to the events, the mandatory requirement by the law.
The Diet's Affairs' Chief of the Constitutional Democratic Party of Japan, Jun Azumi, stated that he "does not care" which committee session Abe would appear as long as Abe would provide a plausible, public explanation as soon as possible.
However, it is unlikely that the Tokyo prosecutors will charge Abe for the false claim that he did not know his office had covered the cost partly for the vents held at luxurious hotels in Tokyo. Instead, the prosecutors are planning to file a summary indictment against Abe's secretary for failing to keep the financial records. For your information, a summary indictment is a simplified process for less serious offences that skips court examination and results in a fine of 1 million yen or less.
Source: https://bit.ly/3rjPzt7