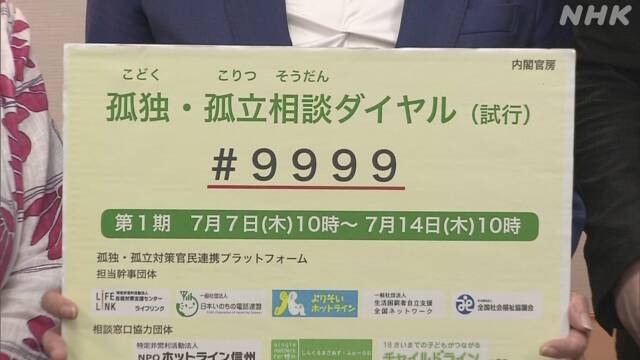 https://www3.nhk.or.jp/news/html/20220705/k10013703031000.html
From July 7th to 1 Week to Implement "Unified Telephone Consultation for Various Problems"
In light of the prolonged impact of the new corona and rising prices, the government has decided to set up a unified telephone consultation desk for various concerns from private support groups nationwide from the 7th to the 1st week.
This was announced at a press conference by the minister in charge of declining birthrate Noda, who is in charge of measures against loneliness and isolation, and the people in charge of support groups.
According to the announcement, the problem of loneliness and isolation is becoming more serious due to the prolonged impact of the new corona and soaring prices, so from 10 am on the 7th for a week, a unified telephone consulting desk will be available to respond to various concerns.
The phone number is #9999, and if you select the consultation content by automatic voice, such as living difficulties, dying hardship, domestic violence, sexual violence, and worries under the age of 18, you can become a private support group active nationwide.
The government plans to conduct telephone consultations three times this year, including this time, analyze the results, and aim for constant operation from next year onwards.
Minister Noda said, "We have set the number so that it can be remembered in case of emergency. We would like to work to get the necessary support to those who are suffering from loneliness and isolation more quickly."
Source: https://www3.nhk.or.jp/news/html/20220705/k10013703031000.html