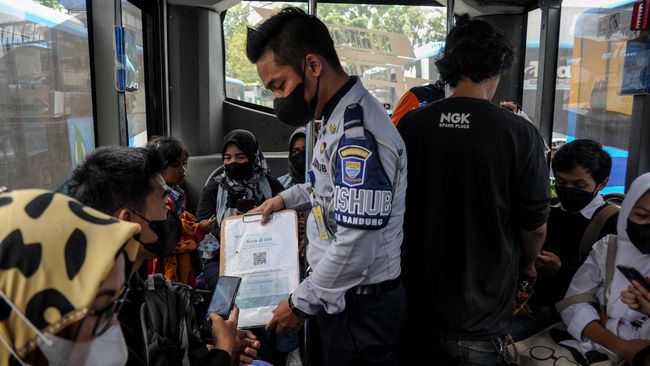 ANTARA FOTO/RAISAN AL FARISI
"Please Refrain From Talking Directly or by Phone" Hometown Returning Policy While Boarding Public Transportation - COVID19 Taskforce says
Jakarta, CNN Indonesia.
Indonesian COVID-19 National Taskforce forbid passangers which on their way homecoming to talking while boarding public transportation. Either by phone or talk directly.
This provision is regulated through the Circular of the COVID-19 Handling Task Force Number 16 of 2022 concerning Domestic Travel Provisions (PPDN) During the corona virus disease (COVID-19) pandemic which was signed by the Head of the COVID-19 Handling Task Force, Indonesian Armed Forces Lt. Gen. Suharyanto on April 2, 2022.
It is not permitted to speak one way or two ways by telephone or in person throughout the trip using public transportation modes by land, rail, sea, river, lake, crossing, and air," said SE, the COVID-19 National Task Force quoted by CNN.
On the other hand, residents who have just been vaccinated twice need to undergo a rapid antigen test, and residents who have just been vaccinated once need to attach the negative COVID-19 result as well, the PCR test.
The central government did not forbid homecoming activities in the midst of this year's Eid Fitr event, but the government has set special conditions related to COVID-19, residents whom vaccinated with third booster vaccine would not need to attach any of the negative results of COVID-19 when accessing public transport.
Source: https://www.cnnindonesia.com/nasional/20220404073015-20-779762/syarat-mudik-angkutan-umum-dilarang-mengobrol-dan-terima-telepon