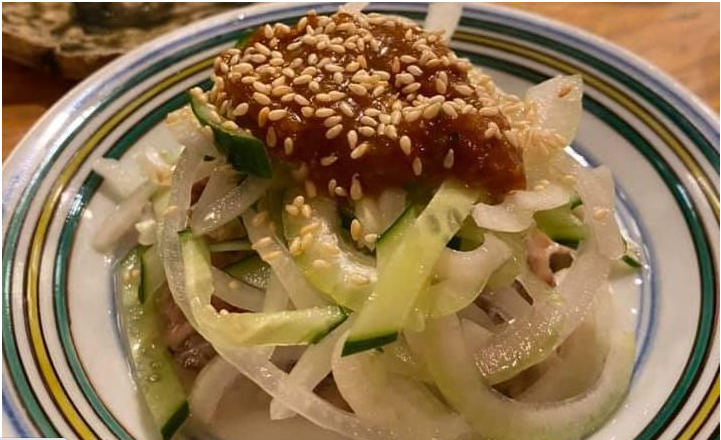 東北復興を支えたサバ缶つまみ 経堂「きはち」の名物メニューが10周年
Japan : 10th anniversary of Kyodo's "Kihachi" specialty menu, which supported the Tohoku reconstruction
The family-owned yakitonn tavern "Kihachi" at the north exit of Kyodo Station's standard menu "Saba can and vegetable curry vinegar miso sauce" (550 yen) has appeared 7 It is the 10th month of the month.
(Kyodo Keizai Shimbun)
Ki no ya in Ishinomaki City, Miyagi Prefecture The menu using boiled cans of Kinka mackerel from Ishinomaki Suisan was sold in July 2010 when Mr. Makoto Suzuki, the sales representative of the company, visited the store. It started when I handed over a canned sample to Hideki Yasoshima. Mr. Yasoshima said, "When I first ate it, I was amazed at all. It is a mackerel mackerel carefully stuffed with freshness that can be eaten even with sashimi. It was good to add homemade vinegar miso for gatsu sashimi and maimai sashimi, and add curry powder to the hidden taste," he recalls at the time of development. When it is made into a menu, repeat customers become a standard item. It was one of the popular menus around autumn of the same year.

In March 2011, when the company on the coast of Ishinomaki Port was devastatingly damaged by the tsunami caused by the Great East Japan Earthquake, the company recovered the mud-filled cans buried in the site of the factory, carried them to the Kyodo, and then washed them for sale. Support activities have begun. The Yasojima family also participated in the canning work from the first day. "I thought I couldn't eat anymore, so I was happy when I received a mud-filled can. I bought a washed can of mackerel, added it to the menu, and many people came to want to eat and support me."
Tree shop Ishinomaki Fisheries was rebuilt two years after the earthquake, and the edges of the mackerel can continue even after the pre-earthquake sales were restored four years later.In 2018, Mr. Hideki of the store The couple and their son Sho's family went to Ishinomaki and visited the factory. Mr. Sho, who has succeeded the store owner as the second generation this year, said, "The new coronavirus has made the business environment very difficult, but this time, the tree shop has the opposite support from the time of the earthquake. The mackerel can menu is still selling. There is curry udon made with whale curry cans. I want to build stronger tags and survive the difficult times."
Business hours are from 18:00 to 24:00 (12:00 to 22:00 on Sundays). Closed on Mondays on Tuesdays and public holidays. The number of seats is reduced in the store, and up to 2 people can enter the group. Wearing a mask, thoroughly sterilizing alcohol, etc., ventilating frequently, avoiding 3 denseness is open.

Source: https://bit.ly/2CddzcC