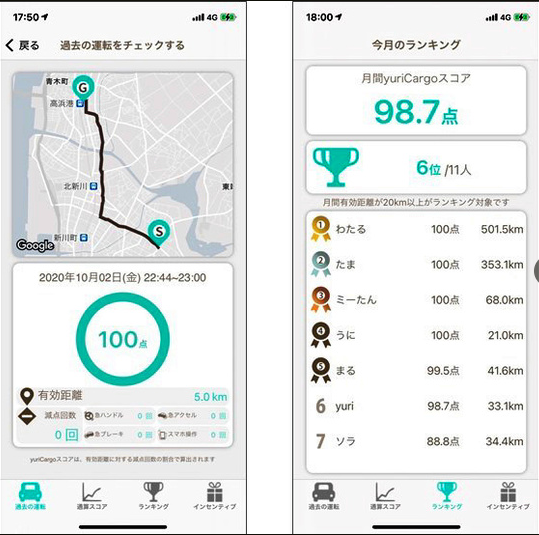 私の運転は何点? スマホで安全採点 デンソーのアプリ
"How save do I drive?" Safe-scoring DENSO App is on development
Denso (Kariya City, Aichi Prefecture), a major Toyota-affiliated automobile parts company, has developed an app "yuriCargo" that scores whether a car can be driven safely. Just by carrying your smartphone and driving, you can see whether it was safe after driving with a maximum of 100 points. It is expected to be used in a wide range of ways and is expected to have effects that go beyond raising awareness of safe driving.
When the app is installed on the smartphone, the start and end of driving are automatically detected. From information such as the acceleration sensor and GPS built into the smartphone, it detects sudden acceleration/deceleration and Overspeed, and when driving is finished, the number of sudden acceleration/deceleration and Overspeed and the overall evaluation are displayed on a scale of 100 points. It is a mechanism to be done.
Denso has applied the technology such as the on-board unit that grasps the position information and running history of trucks. The name "yuri Cargo" is said to include the desire to drive with the gentle feeling of having a cradle in the car.
Source: https://www.asahi.com/articles/photo/AS20201015001855.html