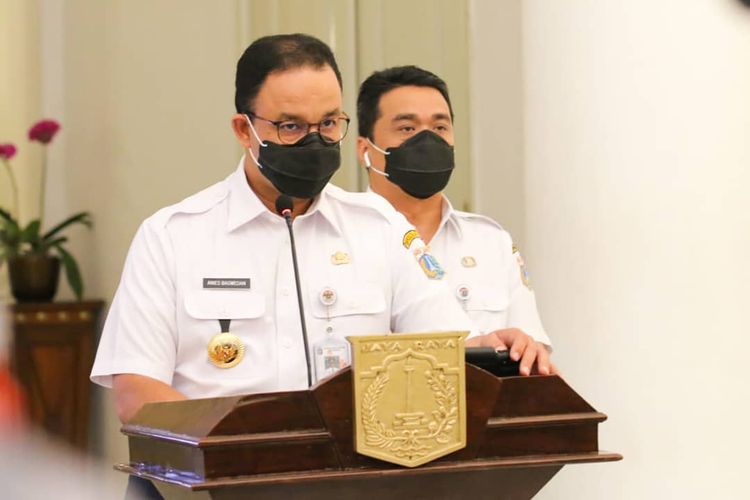 The Governor of Jakarta, Anies Baswedan, assured all COVID-19 patients are well-treated. (Image via Kompas)
Anies: Jakarta has 100 referral hospitals for COVID-19
Speaking on Wednesday at Polda Metro Jaya, the Governor of Jakarta, Anies Baswedan, claimed that Jakarta has 100 referral hospitals ready to treat the patients of the novel coronavirus disease (COVID-19). Furthermore, Anies said that the referral hospitals are reserved for COVID-19 patients with moderate to chronic symptoms who require intensive care immediately.
Anies stated that COVID-19 patients with moderate to chronic symptoms need to be treated immediately. Currently, Jakarta already has 100 referral hospitals to treat COVID-19 patients, added the governor during his address at Polda Metro Jaya.
Previously, Jakarta has 67 referral hospitals for COVID-19. From the figure, some 13 regional general hospitals (RSUD) have been designated as special hospitals for COVID-18 treatment. Besides referral hospitals, Anies added that Jakarta has prepared three self-isolation centers and two hotels to house COVID-19 patients, showing no (asymptomatic) to mild symptoms. The self-isolation centers are:
1. Jakarta Islamic Center, North Jakarta;
2. Graha Wisata TMII, East Jakarta; and
3. Graha Wisata Ragunan, South Jakarta.
And, the hotels are:
1. Ibis Styles Hotel on Mangga Dua, North Jakarta, for 212 patients; and
2. U Stay Hotel on Mangga Besar, North Jakarta, for 240 patients.
Anies asserted that asymptomatic and patients with mild COVID-19 symptoms should maintain self-isolation while being monitored and controlled by the regional government.
Source: https://bit.ly/2EQ0NlK