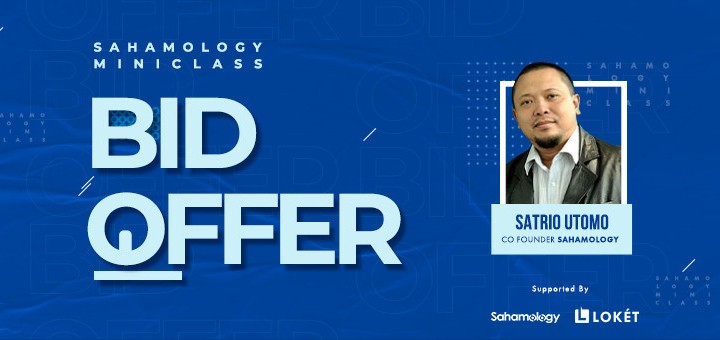 One of the oldest sciences of daily stock trading analysis is reading the queue or order book that is on Online Trading
This could illustrate the market psychology of the day whether there was more interest in sales or purchases.
The knowledge, called Tape Reading or Read Bid Offer, is a technique that is absolutely owned by a daily trader (intraday trader) who wants to get quick profits from buying and selling shares on the same day.
Many things can be explored from reading this bid offer ranging from the strength of demand and supply, support and resistance to see the pattern of selling pressure and buying encouragement.
Learning to read the Bid Offer with Satrio Utomo, he is:
- Sahamology.id Co Founder
- Author of the book Contemporary Candlestick and Trading with Fibonacci
- Stock market practitioners and full time traders
- Decades of experience in the stock market
- Admin and caregiver telegram group https://t.me/tetraxchange.
In this class you can optimize your stock trading by upgrading the BID OFFER reading ability
Register Yourself Immediately
TERMS AND CONDITIONS 1. Webinars are held through the Free ZOOM CLOUD MEETING application, which can be downloaded on Windows, iOS, and Android. Make sure you have installed the application first. 2. After making payment Participants will get an email containing an E-voucher, keep it carefully - E-voucher. 3. Make sure your e-mail address is correct, an access link will be sent to the e-mail address used when registering. 4. The webinar access link is no later than 3 hours before the schedule, Participants can enter the webinar via the access link provided 15 minutes before the schedule starts. 5. E-Vouchers are only valid for 1 (one) person and 1 (one) time usage according to the time & date of the event. 6. E-Vouchers that have been ordered / purchased and paid for by Participants, cannot be canceled or exchanged with other classes or returned or cashed or resold or transferred in any way to others for any reason. 7. By buying an Event Ticket, Participants are considered to understand & agree to the terms and conditions that apply. 8. Try to purchase tickets with VOD, purchases using the same email as the email used to log in the TETRA App. Video recordings you can access Minimum H + 7 9. Sahamology has the right to take the necessary actions if there is suspected adverse fraud.
Source: https://www.loket.com/event/bid-offer-sahamology