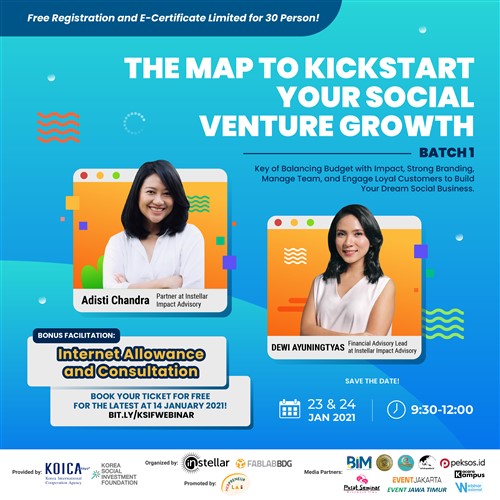 [Calling for All Social Entrepreneurs!]
Who says that a business that prioritizes positive social and environmental impacts is difficult to be profitable? You can do business!
Korean Social Investment together with Instellar will hold webinars and 1 on 1 FREE business consultation sessions on financial management, marketing, and human resources with material presenters who are experts in their fields!
Registration :
Registration date: s / d January 14, 2021
Registration link: bit.ly/KSIFWEBINAR
Facility: E-Certificate
Quota; 30 Participants
When else can I take part in free webinars and mentoring + get internet quota and e_x0002_certificate?
LIMITED FOR 30 PEOPLE ONLY‼
What are you waiting for? Save the date & book your seat now! For more information: @instellarid@herpreneur.lab
More Information:
Instagram: instellarid
Instagram: herpreneur.lab
Source: https://www.eventjakarta.com/event/the-map-to-kickstart-your-social-venture-3-in-1-webinar-series/