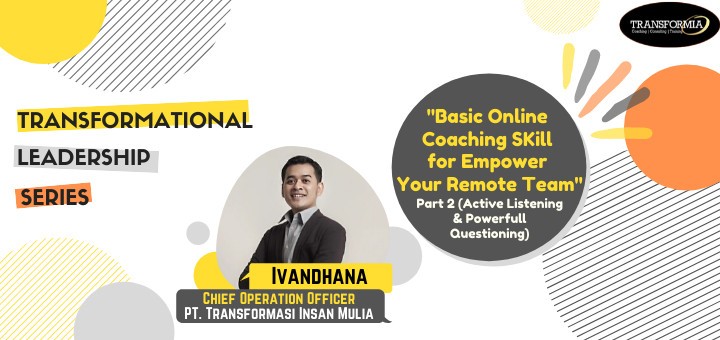 In the second part, this will discuss more about two key competencies that are no less important to carry out the online coaching process, namely:
Active Listening: participants will practice directly to apply 3 levels of listening
Powerful Question: participants will practice asking coaching questions through a digital platform
Info and Contact :
Mia - 081380180930 (chat WA only)
ATTENTION USE THE WATCH (WATCH HERE) ON THE TICKET TO USE INTO THE ZOMOM APPLICATION ROOM MEETING PASSWORD: 041846 Terms and Conditions : The following is a guide in using the ZOOM application for Transformational Leadership Series activities conducted online. There are a number of things that need to be considered: -The activities will be carried out using the ZOOM application, please prepare the application on your device (laptop / computer / handphone). -If you are a new user of ZOOM please do an experiment before the schedule of activities starts. To make sure the network, pictures and sounds on your device are running well -Please prepare 10 minutes before the activity takes place If there is an audio join box, choose join with computer audio (for use on a laptop / computer), it is recommended to use a laptop -Choose a conducive place, suggested using earphones so that the sound sounds clear - Neat clothes -So we can say, thank you for your attention.
Source: https://www.loket.com/event/tls-modul6