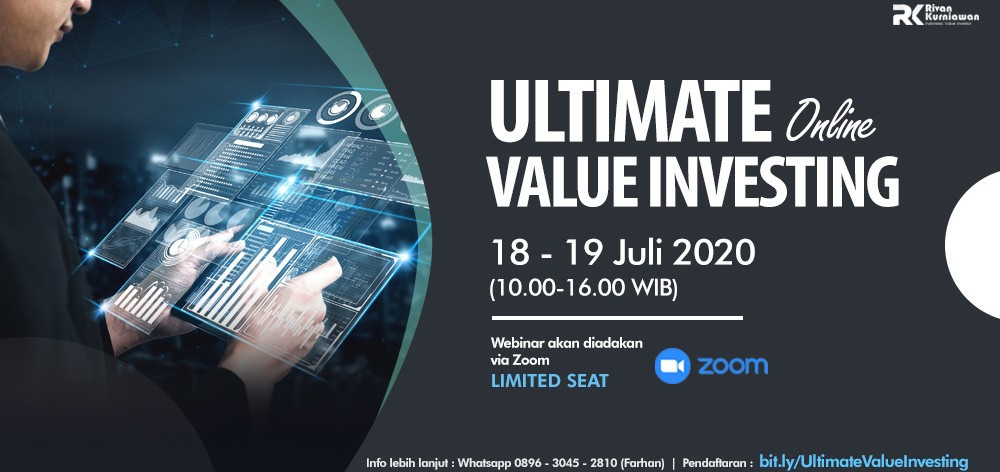 Rivan Kurniawan's Ultimate Value Investing Online is the highest series in the entire Value Investing Workshop series. Ultimate Value Investing Online is a continuation of Basic Value Investing and Advanced Value Investing. You can see more information by clicking here.
NOTE (Please read carefully!):
-Purchase of Ultimate Value Investing Online tickets, July 18-19, 2020 we only provide through the platform loket.com.
-After registering you will get an email containing the Invoice and Zoom URL Link to be accessed on the day of execution.
-Make sure you fill in your name completely and also make sure the email you fill in is correct, so that there are no obstacles in registering through loket.com.
-Make sure you have installed the latest version of the Zoom Cloud Meeting application on your device, so you don't have to run into any difficulties when you want to join the meeting room.
-We recommend that you use a PC or Laptop device and a stable Internet connection so that the material can be absorbed to the maximum.
-Make sure your Zoom Account Name is as registered, if not already, please change it before joining, so that our team can give you access to join.
-The meeting meeting will be opened 1 hour before the Ultimate Value Investing Online starts.
-You will also get a handbook file in PDF that is distributed 3 days via email before the implementation, as reading material before participating in Ultimate Value Investing Online, 18-19 July 2020.
We do not provide the Ultimate Value Investing Online record, but we will invite you to the WA Ultimate Value Investing Alumni group.
-If you have problems or questions, please Whatsapp -Chat our team is on business hours via the number 0896-3045-2810 or email to rivan.investing@gmail.com.
TERMS AND CONDITIONS -The Ultimate Value Investing Online ticket is only valid for 1 (one) participant and 1 (one) device access only. Tickets that have been purchased cannot be canceled or returned, so make sure you have read the notes and conditions of the applicable provisions. -If you suddenly can not attend on schedule, then we can not provide a replacement schedule. -By buying an Ultimate Value Investing Online Ticket, we assume you agree with the terms and conditions that apply. -RK Team can take action if there are adverse violations committed by participants.
Source: https://www.loket.com/event/ultimate-value-investing-online-18-19-juli-2020-oubb