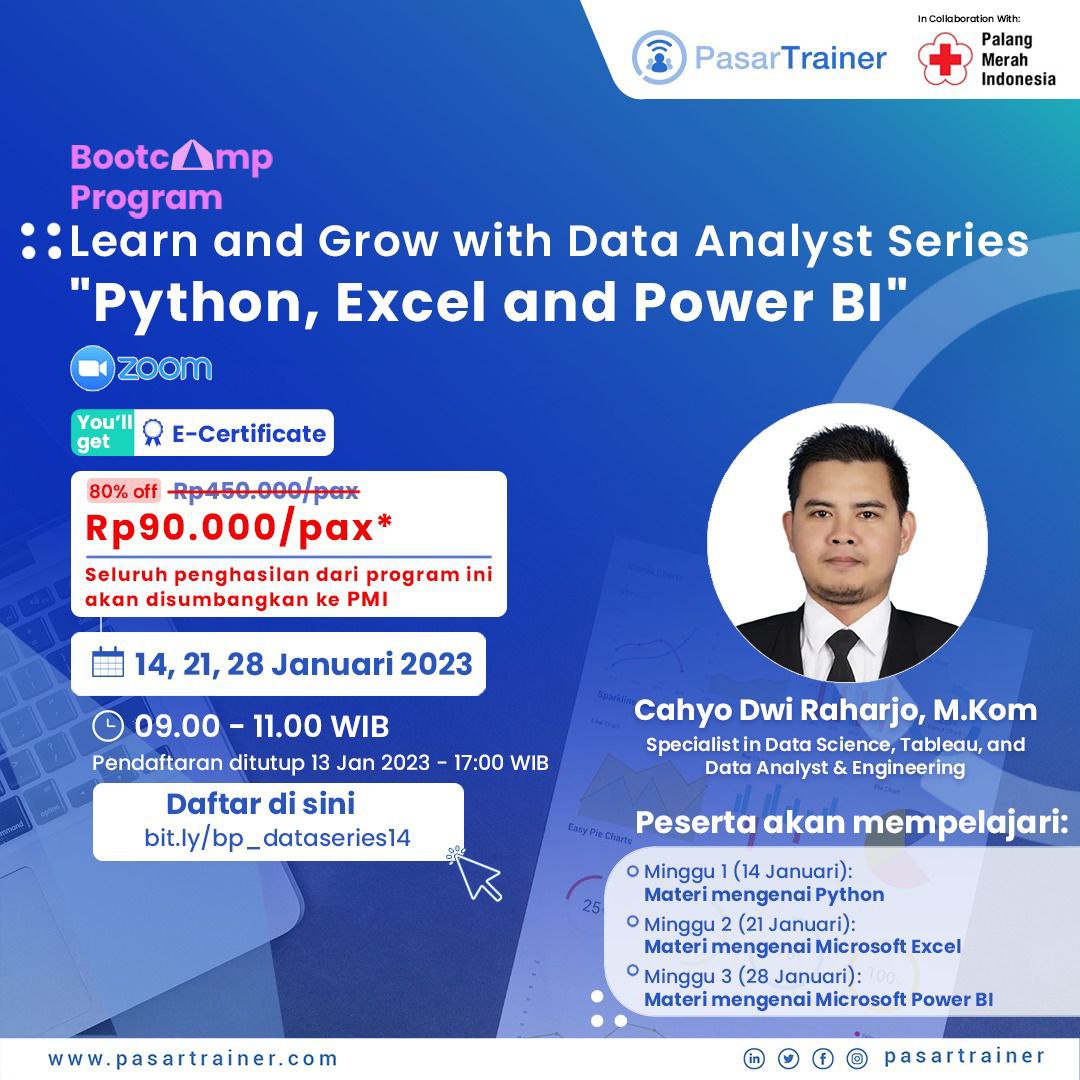 Data everywhere, dimana mana ada data, bahkan tanpa kita sadari dari lahirpun kita sudah menghasilkan data. Bagaimana dengan perusahaan yang berfokus pada transaksi bahkan sehari dapat menghasilkan ribuan hingga jutaan transaksi perhari maka data akan sangat berlimpah. Data yang berlimpah ditangan orang yang tidak tepat hanya sekedar data, tapi di tangan orang yang tepat akan menjadi informasi yang berharga. Hal yang paling sering dilakukan dengan data adalah untuk segmentasi, analisis untuk prediksi atau lain sebagainya. Dengan pelatihan ini peserta di bekali bagaimana mengolah data dengan cara yang sederhana tapi bisa menghasilkan sesuatu yang bermanfaat bagi instansi atau tempat peserta bekerja.
Program Objective:
1. Peserta mampu melakukan cleansing data menggunakan Python
2. Peserta mampu melakukan perhitungan statistik dan matematika pada Python
3. Peserta mampu mempersiapkan data sebelum siap digunakan untuk power BI
4. Peserta mampu melakukan operasi formula pada Excel
Jadi, tunggu apa lagi? Segera daftarkan diri kamu sekarang untuk mengikuti Bootcamp Program: Learn and Grow with Data Analyst Series "Python, Excel and Power BI" bersama Cahyo Dwi Raharjo, specialist in Data Science, Tableau, and Data Analyst & Engineering yang sudah memiliki pengalaman bertahun-tahun dibidangnya.
Sampai jumpa dikelas
Source: https://minartis.com/learn-and-grow-with-data-analyst-series/
Tags: #Data analyst