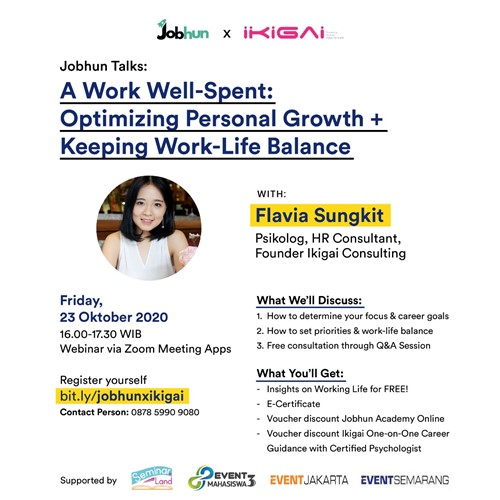 Want to know how to work productively, but still balanced with activities outside of work? Come on, join the Jobhun x Ikigai Consulting webinar which will discuss Personal Growth and Work-Life Balance. Free!
Together: Flavia Sungkit
psychologist
HR Consultant
Founder of Ikigai Consulting
What well Discuss:
How to determine your focus & career goals
How to set priorities & work-life balance
Free consultation through Q&A Session
Registration :
Registration Fee: Free
Registration link: bit.ly/jobhunxikigai
Facilities:
Insights on Working Life for Free!
E-Certificate
Jobhun Academy Online discount vouchers
Ikigai One-on-One Career Guidance with Certified Psychologist discount voucher
More Information:
Hotline: 0878 5990 9080
Source: https://www.eventjakarta.com/event/jobhun-talks-a-work-well-spent-optimizing-personal-growth-keeping-work-life-balance/