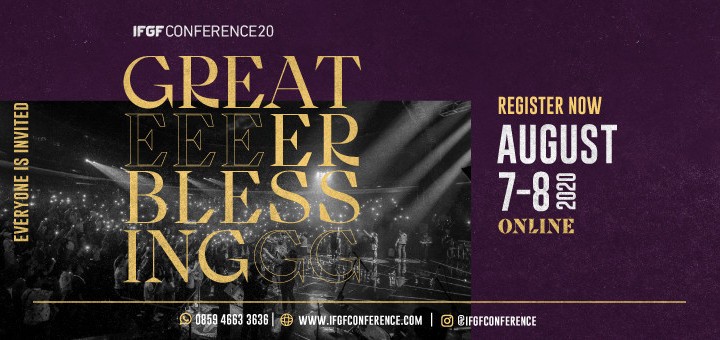 IFGF Conference is an opportunity for leaders from various fields such as God's servants, entrepreneurs, professionals and future leaders to learn and get direct access to international speakers. Our vision is to equip and build leaders globally. This conference is an annual conference formerly known as Terang Bagi Bangsa, Harvest Festival and since 1998 it has been changed to IFGF Conference.
Some international and domestic speakers from past conferences are Dick Iverson, Joseph Prince, Doug Stringer, Chip Ingram, Joey Bonifacio, Russell Evans, Ravi Zacharias, Leo Bigger, Dr. Jimmy and Jenny Oentoro, Daniel Hanafi, James Gwee, Tung Desem Waringin, and Adrian Kristanto. Some experts from various fields of industry and backgrounds have also been invited such as state officials, politicians and successful entrepreneurs, namely KPK Chairman Agus Rahardjo, Rizal Ramli, Anies Baswedan, Gus Nuril, Sutanto Hartono, Grace Natalie, Iman Usman, and others.
So don't miss this year's IFGF Conference, we invite famous speakers such as Joel A'bell (Revitalize Church, Australia), Kong Hee (City Harvest Church, Singapore), Mr. Ganjar Pranowo, SH, M.IP (Governor of Central Java) , Ps. Jimmy Oentoro, Ps. Daniel Hanafi, Ps. Sam Hartanto and many more!
As well as WORKSHOPS with themes:
Day 1:
1. NAVIGATE BUSINESS IN THE NEW NORMAL
2. ENGAGING CREATIVELY IN DIGITAL PLATFORM
3. HOW TO OVERCOME MENTAL HEALTH
4. LIVING BEYOUTIFULLY (Women)
5. MAN UP! (Men)
Day 2:
1. GENERATION REINFORCEMENT
2. RAISING KIDS WITH IMPERFECTION
3. DISCIPLESHIP IN THE NEW NORMAL
4. PREPARING SUNDAY SERVICES ONSITE & ONLINE
5. PRAISE TALK
TERMS AND CONDITIONS 1. Tickets purchased are non-refundable, non-transferable and non-exchangeable / reschedule. 2. The selection of workshops can be done according to the available capacity. If the selected workshop capacity is full, then the workshop will be determined by the committee. 3. Login info to the dashboard will be sent to the registered email address. Make sure your email is active and login info should never be given to others, because it is confidential. An error in entering the email address will result in the link failing to be sent. 4. Tickets that can be purchased through loket.com are only 1 ticket per email per name per transaction. 1 email address needs to be registered to get 1 login info for 1 participant. The email used must be the email registered at ZOOM for the purpose of the workshop. 5. Don't share links and login info with others. Link and login info can only be opened in one browser and one device at a time. If the link and login info are already used on one device, then the link and login info will not be able to be opened on another device. 6. Access the link in a timely manner according to the event schedule, because this is an event that is broadcast live. Any delay in accessing will be the responsibility of the participant. There will be no repeat and / or refund from IFGF and loket.com. 7. Video quality may differ depending on the quality of the participant's internet network. 8. Live chat services can be used when live streaming, please do not use words that smell SARA, politics or pornography when doing live chat. 9. Download, record and / or distribute video or broadcast content are prohibited. 10. By purchasing this ticket, the customer has agreed to the collection, storage and use of customer data for conference purposes. 11. The organizer has the right to refuse access from customers to watch the conference if they do not meet the terms and conditions. 12. The Organizer reserves the right to make adjustments or changes without notice. 13. Events may change at any time according to the organizer's decision. 14. Participant registration is closed on 31 July 2020. 15. Further information about this event and login to the website to attend this conference will be sent to the registered email after July 20, 2020. Web: ifgfconference.com Whatsapp: +62 859-4663-3636 Instagram: @ifgfconference
Source: https://www.loket.com/event/ifgf-conference-2020