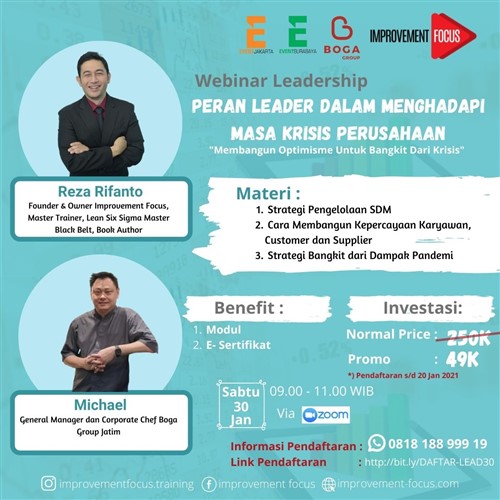 DON'T SHUT UP !!
Does your company or workplace experience
Reduction of employees
Pruning working days
Apply unpaid leave / no work no paid
Or even close the company / place of business temporarily or permanently
A pandemic can no longer be avoided
Most of the business sectors are affected by this condition
Is your company or workplace affected too?
If 1 of the 4 questions above you answered "YES" it means that your company or workplace is affected by this condition
Dizzy?? CERTAINLY
Confused?? CERTAINLY
Hopeless? DO NOT
In the midst of such conditions, a strong leader who is full of creative and innovative thoughts is needed
Business owners and leaders must have thousands of strategies to improve this condition
Improvement Focus with Boga Group Jatim presenting a leadership webinar "THE ROLE OF LEADERS FACING THE CRISIS OF COMPANIES" to be able to discuss and share together to be able to rise from the adversity of the impact of the pandemic
Together with Mr. Reza Rifanto as Founder & Owner of PT Fokus Quality Utama and Mr. Michael as General Manager of the East Java Boga Group will share experiences and what strategic steps are taken in dealing with the company's crisis conditions.
Interested?
Take advantage of this opportunity
Registration :
Registration fee :
Normal: IDR 250,000
Promo (until January 20, 2021): IDR 49,000
Registration link: http://bit.ly/DAFTAR-LEAD30
Quota: 100 Participants
More Information:
Hotline: 081818899919 (WA)
Instagram: improvementfocus.training
Web: improvement-focus.com
Source: https://www.eventjakarta.com/event/webinar-leadership-peran-leader-dalam-menghadapi-masa-krisis-perusahaan/