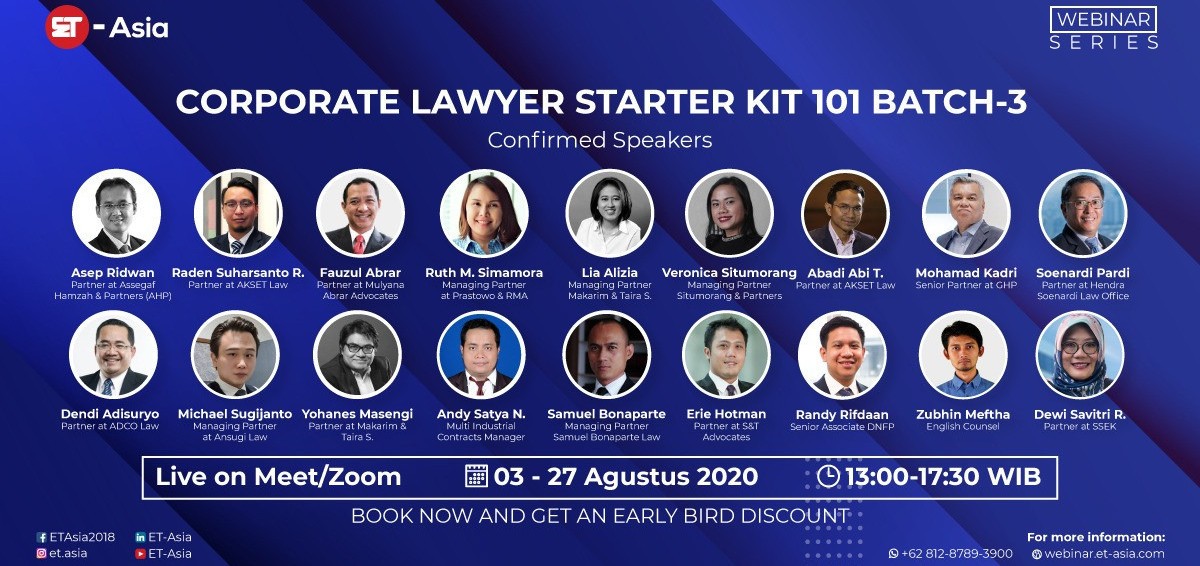 The Corporate Lawyer Starter Kit 101 Webinar Series is an intensive learning program regarding all fields of law that must be owned by a Corporate Lawyer. There are 30 legal materials that will be discussed in depth with Partners from the Mid-Top Tier Law Firm in Indonesia
Starting from Corporate Law, Bankruptcy, Negtiation, Dispute, Arbitration, Fintech, Merger and Acquitition, and other legal aspects. This program is deliberately designed specifically to improve the skills and knowledge of Corporate Lawyer or Legal Department, from entry level to professional level.
Schedule:
Facilities:
+ Exclusive E-Book (S&K applies)
+ Competency Exams (S&K applies)
+ E-Certificate
+ Experienced Speaker
+ Softcopy of material
Through this "Corporate Lawyer Starter Kit 101" webinar program you will get:
1. Perspectives, examples, and insights regarding current company law.
2. Strategies relevant to use at this time.
3. Practical Tips & Tricks for resolving corporate legal issues.
TERMS AND CONDITIONS -Webinar Series is ET-Asia live streaming which will be held through the ZOOM / GOOGLE MEET application and this application is available FREE and can be downloaded on Windows, iOS, and Android. Make sure Participants have installed the application first. -Participants will get an INVITATION LINK confirmation via the same WhatsApp or EMAIL on D-day the event is MAXIMUM 30 Minutes before the event starts. Please check your INBOX / SPAM / PROMOTION email with sender (info@et-asia.com). Verify that the email address the Participant provided is correct. -When registering to enter ET-Asia Webinar Series access on the ZOOM / GOOGLE MEET application, participants MUST register the same name at the time of purchasing the ET-Asia Webinar Series E-Ticket. -If differences in names are found when purchasing an E-Ticket and when registering to enter ET-Asia Webinar Series access, Participants are not entitled to get access to the given webinar series link. -Participants can join the access link provided 30 minutes before the ET-Asia Webinar Series schedule begins. -E-Ticket is only valid for 1 (one) person and 1 (one) time of use in accordance with the time & date of the event. -E-tickets that have been ordered / purchased and paid for by Participants cannot be canceled or returned or cashed or resold or transferred in any way to others for any reason. -There is no class change for participants who cannot attend the online class schedule. -By purchasing the E-Ticket, Participants are considered to understand & agree to the terms and conditions that apply. -ET-Asia has the right to take the necessary actions if there is suspected adverse fraud.
Source: https://www.loket.com/event/corporate-lawyer-starter-kit-101-batch-3-ubcu