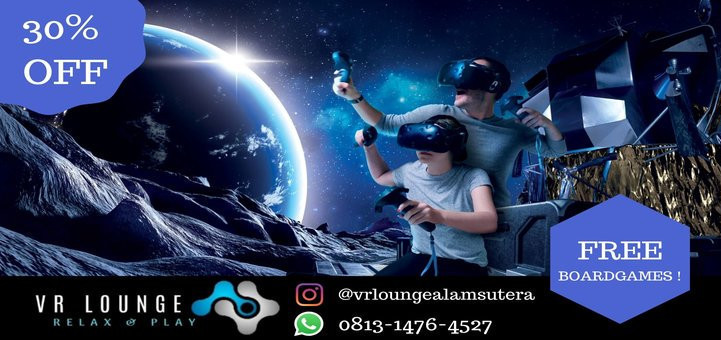 Description:
Registration :
-VR Ticket - 60 Minutes : Rp 70.000
-VR Ticket - 30 Menit : Rp 38.500

Time : 13:00 - 22:00 WIB

= VR LOUNGE NATURAL SILK =
Hello, we are from SILK NATURAL LOUNGE NATURE
We are a provider of Virtual Reality game services located in Alam Sutera, Tangerang. We offer an exciting & inexpensive Vlirtual Reality playing experience compared to other places.
= FACILITIES =
we have lots of games like beat saber, immortal vader,
superhot, job simulator, whip gun, drop dead and many more. Our Beat Saber
also equipped with custom maps such as beatmaps with k-pop songs
j-pop and western have all been installed, the total songs are over 500 and will continue to grow
We also offer Board Games that are FREE to play on-site
like reversi, chess, exploding kitten, saboteur, battleship, etc.
= CONTACT =
Our location is:
Tower Oak - OKG Jalan Lingkar Barat No.07 RT.002,
RT.003 / RW.RW, Panunggangan Team., Kec. Pinang, Banten 15143
Also check out our IG so we can see the latest promos :)
IG: @vrloungealamsutera
WA / TELP: 0813-1476-4527
Main VR di VR Lounge Alam Sutera
https://www.loket.com/event/main-vr-di-vr-lounge-alam-sutera_8DcU
TERMS AND CONDITIONS * Tickets are only valid for one time at a place * Print all tickets, including print each ticket if you buy more than one ticket. * Free tickets are used to play anything for the specified time (can change games) * Boardgames are free to use & are provided on site
Want To Join This Event ?