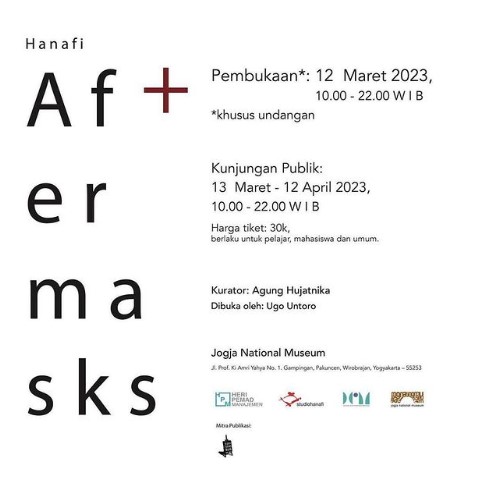 Description:
AFTER MASK
Solo Exhibition by Hanafi
Period: 13 March - 12 April 2023
Opening hours: 10.00 - 22.00
HTML : 30k
Location : Jogja National Museum (Jl. Prof. Ki Amri Yahya no. 01 Gampingan, Pakuncen, Wirobrajan, Yogyakarta)
Fine art is an action on a medium that eventually exists and space, develops and immerses certain objects in darkness.
A painting is not just a matter of wanting to express a will, not a penchant for making something, but rather what happens.
So paint what you can't paint...
(hanafi, 17 February 2023)
Of the many entry points to dive into Hanafi's artistic practice, discussing his abstract paintings remains the most tempting choice. In the span of decades, Hanafi has completed thousands of paintings with a number of styles and issues. During that time, he also occasionally worked on figurative sculptures, monuments in public spaces and installations with various representational forms. Hanafi is an artist with many facets and abilities.
Now, he will showcase his latest works through Af+ermasks.
Tickets for the public are available on the spot.
Purchases are served from 10.00 - 21.00 WIB.