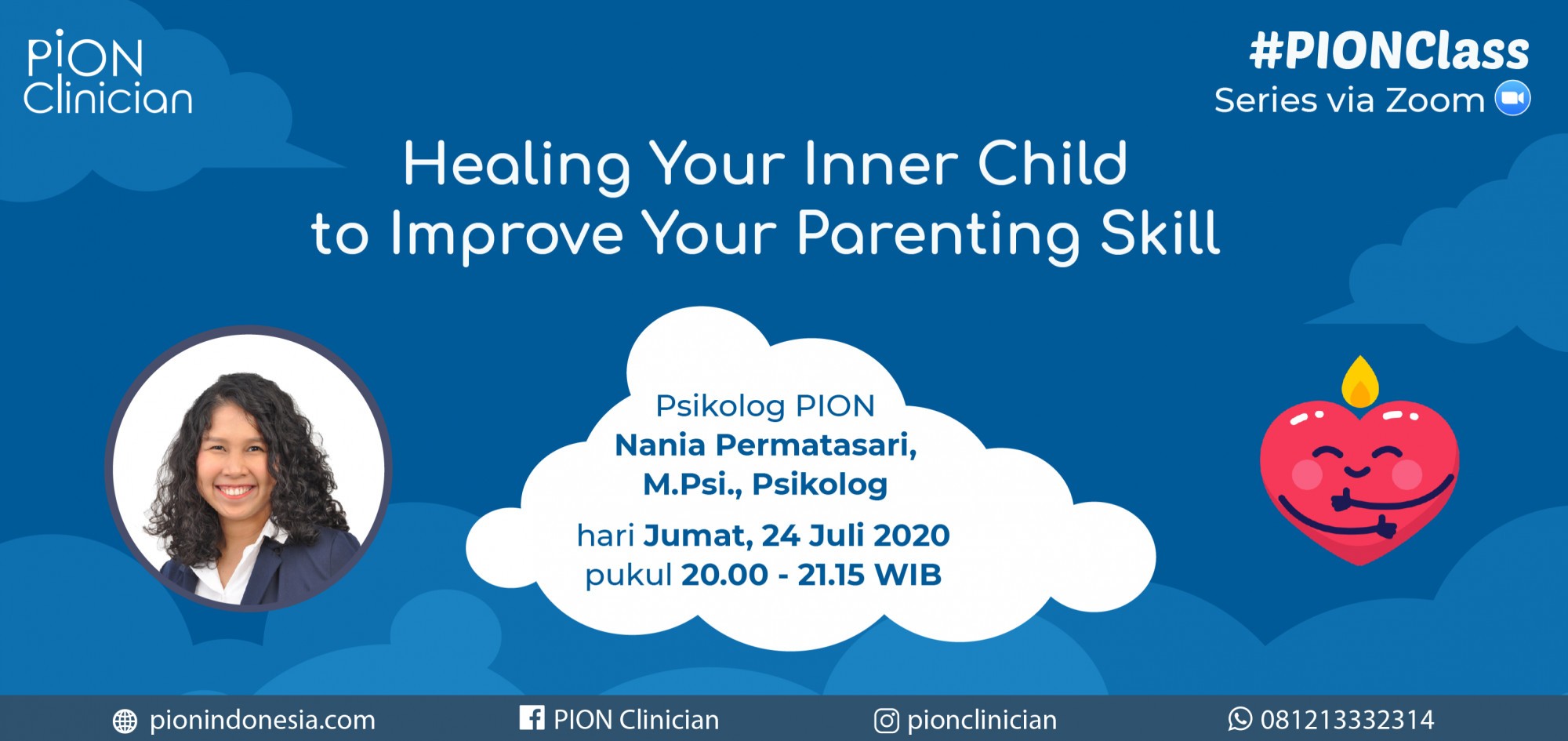 Do you still carry inner wounds from your childhood? Do you want to manage your injured inner child? You seem to need to take a Healing Your Inner Child class to Improve Your Parenting Skill that will be presented by Nania Permasari, M.Psi., Psychologist. You will get an understanding of what is meant by Inner Child, how Inner Child can be hurt, the relationship between Inner Child with parenting, the relationship between Inner Child and relationships, and how to manage an injured Inner Child.
This class will be held at:
Day / Date: Saturday, July 24, 2020
Time: 20:00 - 21:15 WIB
Application: Zoom
This class will certainly be more active and close because it is only limited to 5 people. There are activities that have been adjusted and prepared by psychologists to increase your understanding of the material as well as yourself. You can also ask directly without hesitation with the Expert during class.
Come on, what are you waiting for, register yourself immediately by buying the tickets on this website;)
Speaker Profile
Nania Permatasari, M. Psi. is an adult clinical psychologist graduated from Unika Atma Jaya, Jakarta with a thesis focus on "providing group therapy for systemic lupus patients".
Nania has a deep and experienced interest in issues around mental health, trauma healing, relationships, performance enhancement, parenting, and clinical intervention / psychotherapy. In accordance with his interests and experiences, several times he was invited to be a speaker at seminars and resource persons on the radio.
In addition to his practice as a clinical psychologist, he is also active as an associate assessor and instructor.
TERMS AND CONDITIONS -Please write down the identity of each participant in the form of a name, mobile number (WhatsApp), and e-mail address -Make sure the name matches the name used to join PIONClass, otherwise you will be prevented from joining PIONClass -You will get a PIONClass link notification email from the PION Clinician email on the PIONClass H-1 implemented -If the ticket is transferred or there is a change of name of the ticket owner, please confirm via WhatsApp to the PION administration number (0812-1333-2314) -The maximum class is filled in by 5 participants. If the class is full and you are interested in joining this class in the next schedule or want to hold this class privately with your peers, please fill out the PIONClass Waiting List form at bit.ly/wlpionclass.
Source: https://www.loket.com/event/pionclass5